The entire current content of Aura can be backed up and restored via the Nektarine stand-alone application. A backup includes:
All global settings including pad sensitivity and velocity settings.
Current control settings including the 16 saved presets.
Current sequencer data including the 16 saved collections.
The process to backup and restore does take about 10-15 minutes each way so make sure you have the time to wait for it to complete.
Backup
To backup all Aura data, first make sure Aura is connected to your computer and launch the stand-alone Nektarine application. The backup/restore feature is not available in the plugin versions of Nektarine.
In Nektarine, go to Settings/Preferences and select 'AURA BACKUP' from the Preferences menu. See the right image.
Click [Backup] to activate the backup process. This is a good time to take a break from your system as Aura should not be in use during the process.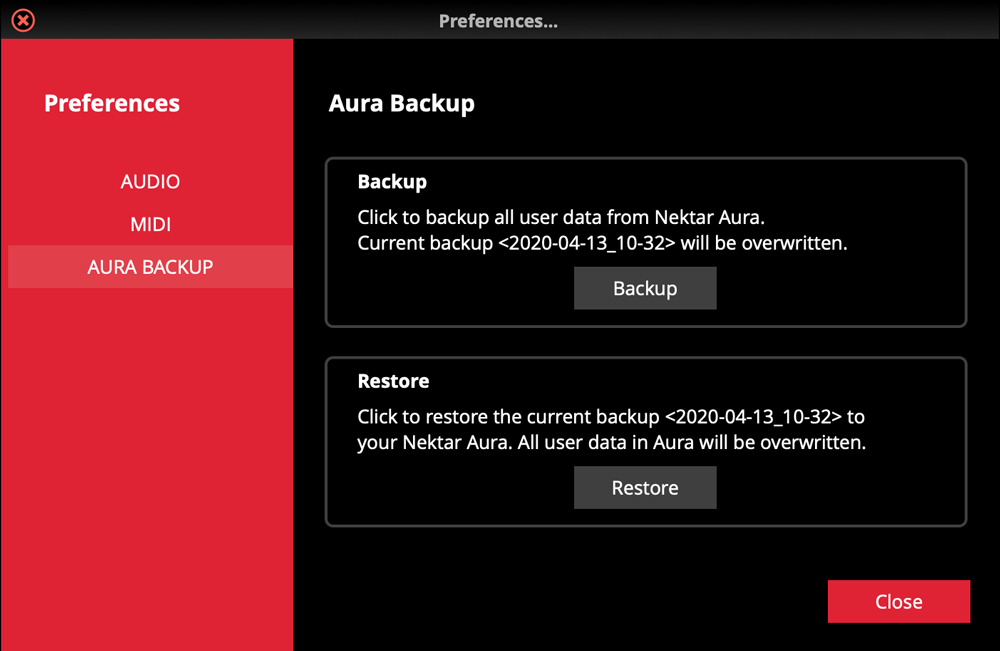 The backup feature only saves one file so if you create another backup at a later stage the presious file will be overwritten. If you need to preserve multiple backup files, contact our support for instructions.
Restore
Restore works the same way as backup.
In the Nektarine 'AURA BACKUP' menu, click [Restore] to transfer the backed up data to your unit.