Nektar Technology MIDI controller keyboards offer unparalleled remote control for your music software and are jam-packed with powerful features.They bridge the gap between software and hardware with Nektar DAW control for most major DAWs and performance tools that help you create music more intuitively. Here's an overview of all current Nektar products:
USB MIDI CONTROLLER KEYBOARDS

PANORAMA P-SERIES
Panorama P4 and P6 are the most amazing USB keyboard controllers you have ever seen, with Nektar DAW Integration and advanced generic MIDI capabilities. Also available as P1 desktop controller.

PANORAMA T-SERIES



Panorama T4 and T6 are advanced Panorama-class performance MIDI controllers with full VST/AU instrument plugin control in any DAW, 2nd Gen keyboard with 49 or 61 keys, aftertouch, note repeat, great pads and Nektar DAW Integration.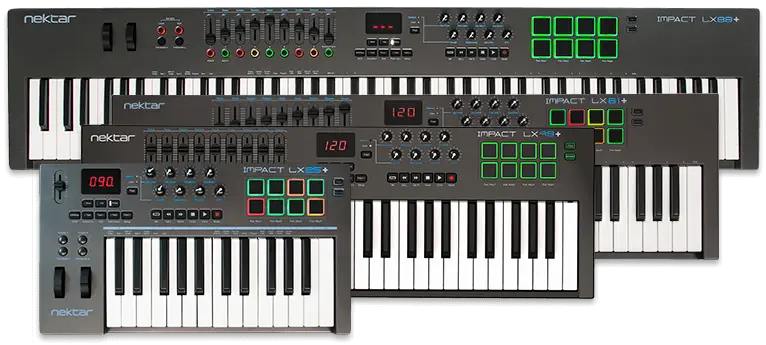 IMPACT LX+ SERIES
25, 49, 61 and 88 note MIDI controller keyboards with 8 pads, Nektar DAW integration for 11 DAWs from compact to master keyboard size.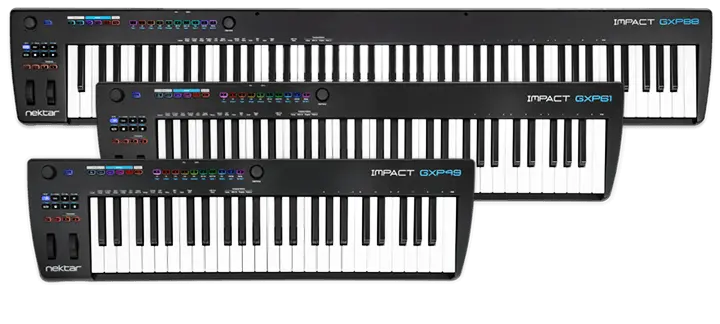 IMPACT GXP SERIES
The keys to a great performance: 49, 61 or 88 semi-weighted keys, instant access to performance controls and patches, real-time repeat engine, Nektarine support and Nektar DAW Integration.

IMPACT GX SERIES
Deceptively simple, the Impact GX49 & GX61 keyboards are for those who don't need lots of controls. Even so, they feature Nektar integration for 11 popular DAWs.

SE49 & SE61
Just play: Entry level controllers with full-size keys and all the features you need when starting out. Includes basic DAW control.

SE25 MINI CONTROLLER
Mobile keys: Our most compact MIDI controller keyboard with 25 mini keys fits in any backpack – and even includes  DAW control and iOS support. 
DESKTOP AND FLOOR USB MIDI CONTROLLERS