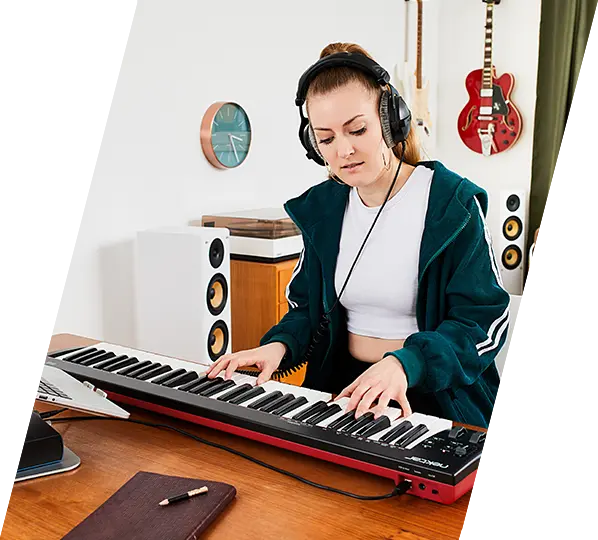 WHAT IS THE BEST MIDI KEYBOARD CONTROLLER BY NEKTAR?
Find the best MIDI controller for your needs: If you want to create on the move, have a look at the mini MIDI Controller SE25. It includes all essential features and fits into virtually any backpack. If you want mini, but more performance and control features, check out the Impact GX Mini and Impact LX Mini MIDI Controller keyboards. 
For a more piano-like playing feel, check out the Impact GXP88 with 88 semi-weighted keys and dedicated performance features.
Impact LX+ and Panorama T4 and T6 provide musicians and producers with full-featured control surfaces including faders, knobs & pads.
A great solution for beatmakers is the Aura Beat Composer. This pad controller features hyper-sensitive pads and an on-board hardware sequencer.
Guitar players in search of a comprehensive remote and switching solution can put the powerful Pacer MIDI DAW Footswitch Controller at their feet.
And if you are just starting out, check out our easy-to-use SE and Impact GX ranges of MIDI Controllers. All Nektar controllers include Nektar DAW Integration, so you can use your software as if it is hardware.
WHICH MIDI KEYBOARD HAS THE BEST KEYS?
The keyboard action is a MIDI controller's key feature (pun intended). Nektar offers synth action and semi-weighted keybeds. All Nektar MIDI controllers are velocity-sensitive and optimized to capture the nuances of your playing, regardless if you choose minikeys, a full-size synth action or an 88-key semi-weighted keybed.
Some models also offer aftertouch for additional expression options. As each type of action feels different, you need to choose a keybed that best suits your personal playing style and needs: a "synth" action has a lighter, unweighted action like you find on many synthesizers. "Semi-weighted" action provides a playing feel closer to a piano. 
For a complete overview of our MIDI controllers, please check out our Products page.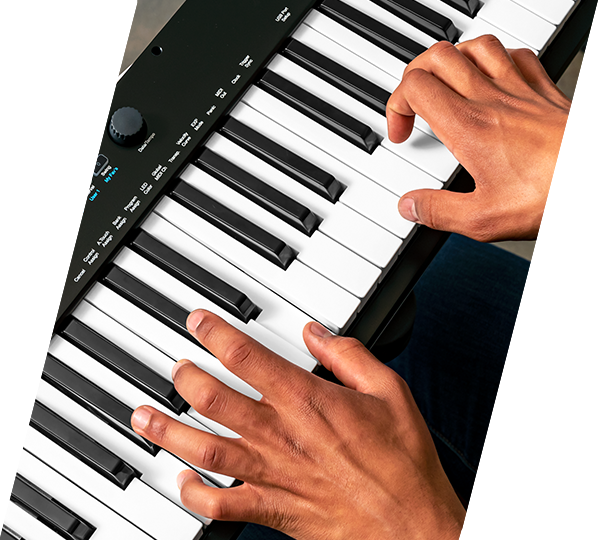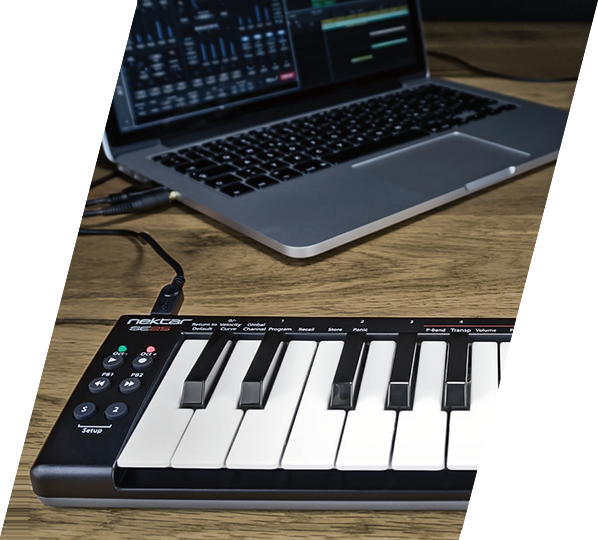 THE BEST MIDI KEYBOARD CONTROLLER FOR BEGINNERS
A MIDI keyboard controller is one of the essential purchases when you are starting out. There are many different models to choose from, so how do you find out, what's best for you?
Start by clarifying your needs: Does it have to be mobile or should it be stationary? How much space do you have? What key range do you need? Do you want a full-featured control surface including deep DAW control as well, or do you just need a good keyboard? Do you prefer a synth action or semi-weighted keys? 
Our most affordable MIDI controllers are the SE25, 49 or 61, focussing on the essentials including an expressive synth action keyboard and basic DAW integration.
The Impact GX49 or 61 add more hardware controls, allowing extended transport control and more DAW control features.
If you also want drum pads and a complete control surface with a bank of faders and knobs, check out the Impact LX25+/LX49+/LX61+ and LX88+.
For a semi-weighted action, check out the Impact LX88+ or Impact GXP49, 61 or 88.
If you just want to discover music-making with your computer, check out our smallest keyboard: the SE25 with 25 mini keys. For much less than the price of a festival ticket you get a plug-and-play mini MIDI controller including a Bitwig music software starter kit.
Regardless of the model you choose, you can take advantage of a vastly improved workflow thanks to Nektar DAW integration. With Nektar DAW integration software installed, all the hard setup work is done, so you can focus on your creativity and control your DAW directly from your Nektar controller. You will find the control features and supported DAWs on each product page.