These MIDI controllers dramatically improve the production workflow in your Steinberg DAW: All Nektar controllers include extensive DAW control for Cubase and Nuendo. Have a look at the overview below and pick the model that best suits your needs. Depending on the model, DAW integration features range from transport and project navigation to a complete experience including control of VST / VST3 / AU plugins. Here's a brief description of each controllers' features and links to the product pages:
Even our mini MIDI controller keyboards include deep DAW integration for Cubase and Nuendo. In this tutorial video you can get an overview of the Nektar DAW integration features for Impact LX Mini – Panorama P and Panorama T can do even more. If you'd like to know more, please visit the product pages by clicking on one of the links below.
ADVANCED DAW AND PLUGIN CONTROL FOR CUBASE
Our Panorama and Impact LX+ controller keyboards deliver a complete DAW control experience, including mixer control for levels, pan, mute/solo and VST instrument plugin control – as well as DAW project navigation, and of course extended transport control ( incl. locators):

PANORAMA P-SERIES
Panorama P4 and P6 offer deep and advanced control for Cubase. This includes extended transport control, project navigation, mixer and VST instrument plugin control.
The color display delivers full visual feedback,  so you can always keep an overview.  Additionally, the motor fader adds genuine console feeling to this experience. Also available as P1 desktop controller (without motor fader).
PANORAMA T-SERIES

Panorama T4 and T6 provide advanced Panorama-class MIDI control for Cubase. This includes extended transport, project navigation and mixer control. In combination with the included Nektarine plugin host/librarian you also get full instrument plugin control. Nektarine even includes a graphic editor for plugin mapping. And the LED display ensures full visual feedback of parameter names and settings.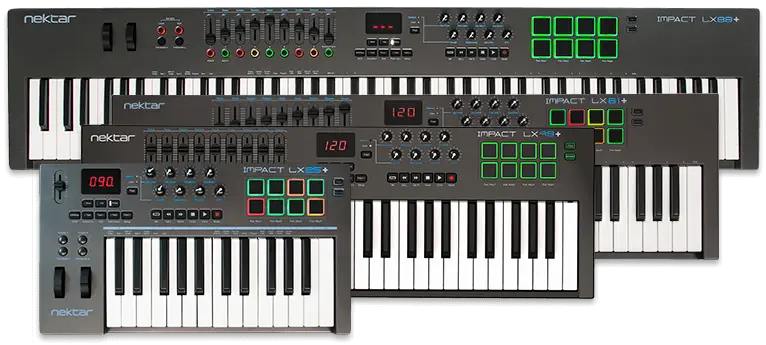 IMPACT LX+ SERIES
Impact LX+ 25, 49, 61 and 88 feature extensive remote control of Cubase. Give your mouse a break with extended Transport control, project navigation, Mixer control and VST instrument plugin control. The controllers' 3 digit LCD display delivers parameter value feedback.  Includes iOS support. Pick your size:
IMPACT LX25+, IMPACT LX49+/61+ or IMPACT LX88+
ADVANCED DAW CONTROL FOR CUBASE
If you are looking for a more stream-lined DAW control experience, check out the Impact GX and GXP series of MIDI controllers: These keyboard controllers offer comprehensive DAW project navigation and transport control including locators. If you just want essential control, SE49 and SE61 are great choices.
MOBILE MINI DAW CONTROLLERS FOR CUBASE
Our mobile MIDI controllers also offer Cubase DAW remote control features: From entry-level essential DAW control on the super-tiny SE25 to full Impact GX-class DAW integration with GX Mini or even plugin instrument control on the Impact LX Mini – we've got you covered!
DESKTOP & FLOOR MIDI CONTROLLERS FOR CUBASE
Are you looking for a USB MIDI controller, but don't need extra keys – or do you want to add dedicated mixing, plugin, foot or pad controller features to your existing Cubase setup? Then check out our AURA pad controller, PACER MIDI foot controller or Panorama P1 (featuring deep Nektar DAW and plugin control)!