Nektar Technology MIDI controller keyboards offer unparalleled remote control for your music software and are jam-packed with powerful features.They bridge the gap between software and hardware with Nektar DAW control for most major DAWs and performance tools that help you create music more intuitively. Here's an overview of all current Nektar products:
USB MIDI CONTROLLER KEYBOARDS

PANORAMA P-SERIES
Panorama P4 and P6 are the most amazing MIDI controller keyboards you have ever seen, with Nektar DAW Integration, plugin control and advanced generic MIDI capabilities. Also available as P1 desktop controller.
PANORAMA T-SERIES



Panorama T4 and T6 are advanced Panorama-class performance MIDI controllers with full VST/AU instrument plugin control in any DAW, 2nd Gen keyboard with 49 or 61 keys, aftertouch, note repeat, great pads and Nektar DAW Integration.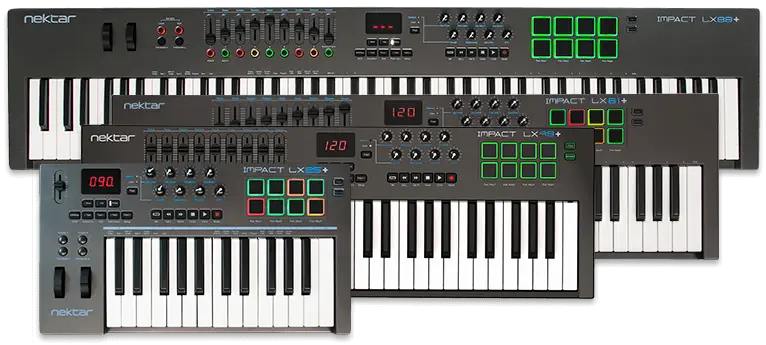 IMPACT LX+ SERIES
25, 49, 61 and 88 note MIDI controller keyboards with 8 pads, Nektar DAW integration for 11 DAWs and instrument plugin control. Pick your size!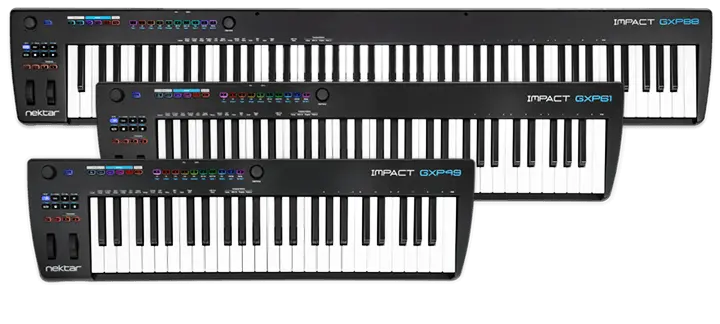 IMPACT GXP SERIES
The keys to a great performance: MIDI Controllers with 49, 61 or 88 semi-weighted velocity- and aftertouch-sensitive keys, instant access to performance controls and patches, real-time repeat engine, Nektarine support and Nektar DAW Integration.

IMPACT GX SERIES
Deceptively simple, the Impact GX49 & GX61 keyboards are for those who don't need lots of controls. Still, Impact GX covers the bases with essential Nektar DAW integration for 11 popular DAWs.

SE49 & SE61
Just play: Entry level MIDI controller keyboards with full-size keys and all the features you need when starting out. Includes basic Nektar DAW control and iOS support.
USB MINI MIDI CONTROLLER KEYBOARDS

SE25 MINI CONTROLLER
Mobile keys: Our most compact USB mini MIDI controller keyboard with 25 mini keys fits in any backpack – and even includes Part 2 performance control as well as essential DAW control and iOS support. 

IMPACT GX MINI
The portable version of our Impact GX series featuring 25 mini keys, joystick, sustain pedal connection and Part 2 performance control. Includes Nektar DAW integration for most popular DAWs and iOS support. 

IMPACT LX MINI
Our most powerful mini MIDI controller with 2 arpeggiator engines, 8 pots for tactile control, volume pot, 8 LED pads, 25 mini keys, joystick and sustain pedal connection. Includes Nektar DAW integration / instrument plugin control for most popular DAWs and iOS support. 
DESKTOP AND FLOOR USB MIDI CONTROLLERS
MIDI KEYBOARD CONTROLLERS WITH AWARD-WINNING DAW INTEGRATION 
Nektar MIDI controllers include DAW integration for most popular DAWs, including Logic Pro X, Cubase, Studio One or Reason. Even our tiny mini controller SE25 has essential control for 12 DAWs right out of the box. Starting from the Impact GX series, extended transport control and project navigation deliver even more tools for hands-on control. The Impact LX+ series adds a DAW mixer mode and powerful plugin instrument control as well as LED drum pads with pad-learn for a complete remote control experience.
For players who need extra reach, the 88-key Impact LX88+ and Impact GXP88 provide a great playing experience with their semi-weighted action. What's more, the Impact GXP range is especially made for performers and combines the streamlined GX-series' user interface with performance features and direct patch access features.
The most complete DAW and plugin control experience is delivered by the MIDI controller keyboards of the Nektar Panorama P- and T-series: Sleek design, LCD displays for full parameter feedback, fader bank, drum pads and loads of knobs for plugin control. The Panorama P-series established a new standard with its full feature set, including a motor fader. Panorama T now follows suit, offering a more compact enclosure and Nektarine support for extensive VST/AU plugin instrument control in any DAW with VST/AU plugin support.
Nektarine also turns our AURA Beat Composer pad controller into an open-ended and powerful beat creation instrument, that allows the creation of kits from multiple plugins for unlimited sonic possibilites. This includes Nektar DAW Integration and deep plugin control in any DAW using Nektarine. 
WHAT MAKES NEKTAR MIDI CONTROLLERS SPECIAL?
Nektar controllers of course provide all the features you'd expect from a good USB MIDI controller, including MIDI programming features and plug-and-play functionality. What sets our instruments apart is, that all the hard work is done for you already thanks to Nektar DAW integration: Once installed, supported DAWs can be controlled without requiring additional mapping. Experience our intuitive and tactile products and operate your music software as if it is hardware!
WHAT IS THE BEST MIDI CONTROLLER?
This isn't easy to answer, as it depends on your needs and expectations: Are you a player, a producer – beginner or pro?  We have created a page that is trying to answer some of the basics: What is the best MIDI Controller?
Also, if you own a supported DAW, we have started to create blog articles that are structured by model like this page and give you an overview of each model's Nektar DAW control features for your DAW. Hopefully, this makes it a bit easier to pick the MIDI controller, that's right for you! We have created pages for Steinberg Cubase, Apple Logic PRO X and Presonus Studio One. More to follow!