Nektar MIDI controllers improve the production workflow in Reason with extensive DAW control features, enabling you to produce your music faster and more intuitively. Find the right MIDI controller for your needs in the following brief overview of our models' features and capabilities. Nektar's product range includes entry-level models with essential transport and project navigation as well as advanced models with deep instrument plugin remote control. Top-of-the line are the Panorama models, that get you as close as possible to using Reason as if its hardware – including detailed visual parameter feedback on the hardware. 
ADVANCED REASON DAW + PLUGIN CONTROL
Panorama and Impact LX+ offer a complete Reason DAW control experience with extended transport control including locators, DAW project navigation, mixer control and Reason Instrument device control: 

PANORAMA P-SERIES
Experience advanced and deep control for Reason with Panorama P4 and P6: Select a menu on Panorama and all available parameters are automatically mapped and displayed on the TFT screen for instant control. You can even create and control instrument devices directly from Panorama. Features include extended transport and project navigation, mixer control including Dynamics, EQ, Inserts & Sends as well as AU / VST instrument plugin control. The color TFT screen with full visual parameter feedback makes it easy to keep an overview and Panorama's motor fader adds pro-console channel control to this experience. Here's a detailed description (Link). Also available as P1 desktop controller (see further below).

PANORAMA T-SERIES

Panorama T4 and T6 include advanced Panorama-class MIDI control for Reason: Extended transport control, project navigation, mixer control including EQ, Dynamics and channel sends as well as Reason instrument device control.
AU / VST instrument plugins can also be controlled. In combination with the included Nektarine software you get extensive control and a graphic plugin map editor for easy creation of your own maps. The LED display always ensures full visual feedback of parameter names and settings.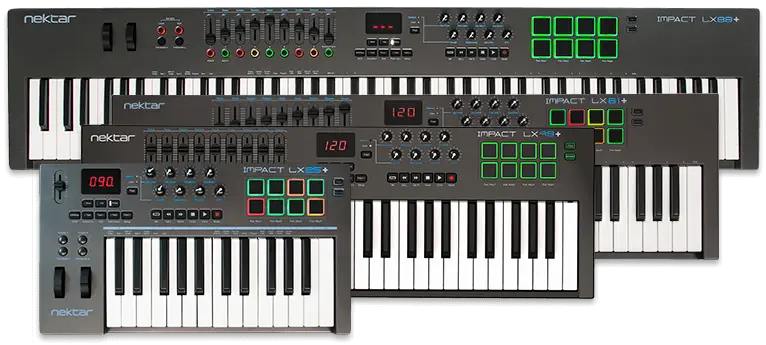 IMPACT LX+ SERIES
Impact LX25+, LX49+, LX61+ and LX88+ also offer advanced DAW control for Reason. Features include extended transport control, track selection and project navigation, Volume, Pan, Mute & Solo Mixer control and Reason Instrument device control including special support for Reason drum instruments. Parameter value feedback is provided by the 3 digit LCD display. Pick your size:
IMPACT LX25+, IMPACT LX49+/61+ or IMPACT LX88+
ADVANCED REASON DAW CONTROL
Impact GX and GXP MIDI controllers provide a more stream-lined Reason DAW control experience, focussing on DAW project navigation and extended transport control including locators. If you are just starting out and you are looking for keys with basic DAW control, the SE49 or SE61 are great choices.
MOBILE REASON DAW CONTROLLER KEYBOARDS
If you are looking for a mobile MIDI keyboard controller with dedicated Reason DAW control, check out our super-tiny Nektar SE25, with entry-level essential DAW control, GX Mini with full Impact GX-class DAW integration – or all of these features plus drum pads and plugin instrument control on Impact LX Mini.
DESKTOP & FLOOR MIDI CONTROLLERS FOR REASON
Looking for a MIDI controller than provides mixing-, plugin-, foot- or pad-control for your Reason setup – but you don't need an extra keyboard? Then check out the AURA pad controller, PACER MIDI foot controller or Panorama P1 desktop MIDI controller.