Yamaha Genos Arranger Workstation Preset for Pacer
Optional Preset for Yamaha Genos Digital Arranger Workstation (Footswitch Style Control)
Yamaha's Genos Arranger Workstation has a great MIDI-Implementation: So you can assign a host of functions to be controlled from Pacer so you keep your hands free for playing.
This preset will allow you to control Start/Stop, Fills, Fades, Variations, Ending and Volume.
Stomp [1] controls start and stop, stomp [2] triggers Fill In 1, [3] and [4] control Variation Fill down / up and Stomp [5] starts the Fade. Stomp [6] is assigned to the tap tempo function. If you connect [FS1] and [FS2], you additionally get access to triggering Ending 1 and 2.
[EXPRESSION PEDAL 1] is assigned to Volume, [EXPRESSION PEDAL 2] to the user assignable parameter which is defined as CC01 by Yamaha.
(In order to load the Preset into Pacer, you need to use a Sysex program such as Sysex Librarian from Snoize for Mac OS X or Bome's SendSX for Windows.)
The sysex data will be loaded as the 'Current' preset. You can then save the settings to any of Pacer's preset slots. If you don't save the preset, the settings will be lost the next time you select a different user preset.
With Pacer in Preset Mode, turn the Data Encoder to select 'SAVE', then press the Encoder Button.
The 5-character display will say 'STORE', press the Encoder button.
Turn the data encoder to select the Preset slot, to which you would like to save this additional preset for the Yamaha Genos, then press the Encoder button.
Now you have saved the Yamaha Genos preset, so that it can be recalled for later use.
Yamaha Genos – Style & Variation Control Preset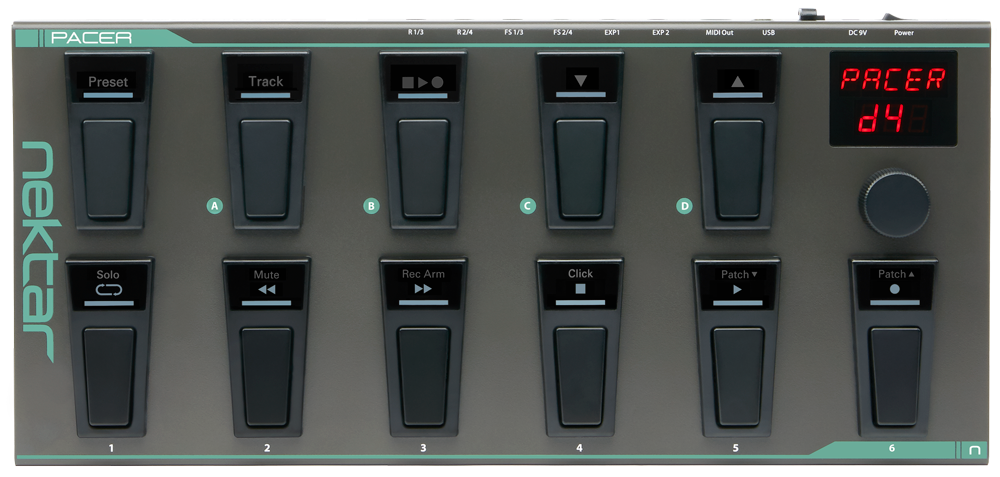 Switch A:

Track Preset

Switch B:

Transport Preset

Switch C:

Previous Preset

Switch D:

Next Preset

Switch 1:

Start/Stop

Switch 2:

Fill In 1

Switch 3:

Var Fill Up

Switch 4:

Var Fill Dwn

Switch 5:

Fade

Switch 6:

Tap Tempo
FS1: Ending 1
FS2: Ending 2
FS3: OFF
FS4: OFF
EXP1: Volume
EXP2: (user-definable CC01)