Neural DSP Quad Cortex Preset for Pacer
Here is a link to a preset template for Pacer which is designed to work with the Quad Cortex from Neural DSP:
To send the sysex data to Pacer, use Sysex Librarian (OS X) or Bome's Send SX (Windows).
The sysex data will be loaded as the 'Current' preset. You can then save the settings to any of Pacer's preset slots. If you don't save the preset, the settings will be lost the next time you select a different user preset.
With Pacer in Preset Mode, turn the Data Encoder to select 'SAVE', then press the Encoder Button.
The 5-character display will say 'STORE', press the Encoder button.
Turn the data encoder to select the Preset slot, to which you would like to save this preset, then press the Encoder button.
Neural DSP Quad Cortex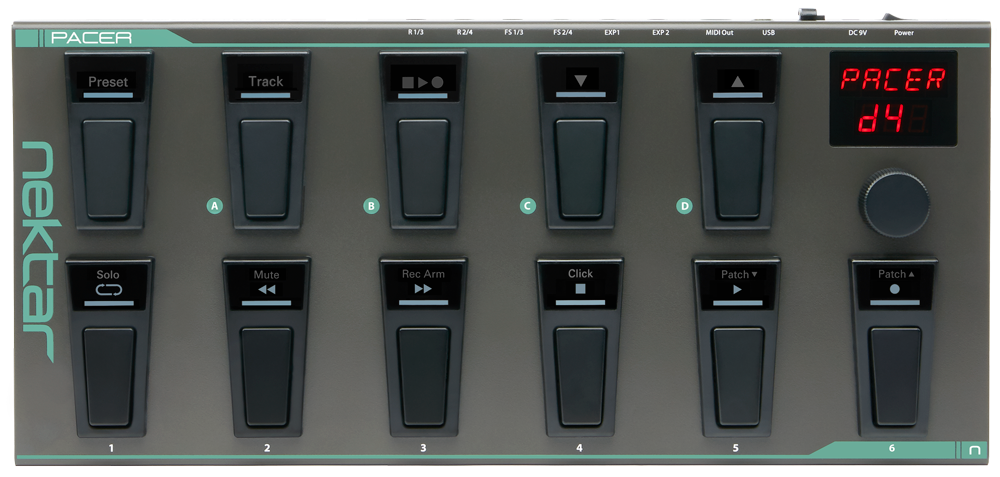 Switch A:

Foot Switch G

Switch B:

Foot Switch H

Switch C:

Scene Select

Switch D:

Change Modes (Stomp/ Preset/ Scene)

Switch 1:

Foot Switch A

Switch 2:

Foot Switch B

Switch 3:

Foot Switch C

Switch 4:

Foot Switch D

Switch 5:

Foot Switch E

Switch 6:

Foot Switch F
FS1: Tuner On/Off
FS2: Open/Close Gig View
FS3: MIDI CC 82
FS4: MIDI CC 83
EXP1: Expression Pedal 1
EXP2: Expression Pedal 2