Marshall Code 100H Preset for Pacer
Optional User Preset for Marshall Code series 100H.
Marshall's Code 100H has full MIDI remote control capabilities, so Pacer can be used to control amp settings and preset selection.
Setup requires you to either connect Pacer via a DAW (Track MIDI In: Pacer / MIDI Out: Marshall), or via a USB MIDI Host device (such as Kenton Electronics' "MIDI USB HOST MKII" for instance). In this case, you connect Pacer's MIDI Out to the MIDI In of the MIDI USB Host, and the device's USB connector to Marshall's mini USB socket on the front panel.
The Preset will switch the Code 100H effect blocks on an off as well as assign [Exp Pedal 1] to matching parameters such as Volume when you press stomp [2] for Amp On/Off first, or Reverb Mix, when you press stomp [5] first. Preset browsing is possible using [FS1] and [FS2].
(In order to load the Preset into Pacer, you need to use a Sysex program such as Sysex Librarian from Snoize for Mac OS X or Bome's SendSX for Windows.)
The sysex data will be loaded as the 'Current' preset. You can then save the settings to any of Pacer's preset slots. If you don't save the preset, the settings will be lost the next time you select a different user preset.
With Pacer in Preset Mode, turn the Data Encoder to select 'SAVE', then press the Encoder Button.
The 5-character display will say 'STORE', press the Encoder button.
Turn the data encoder to select the Preset slot, to which you would like to save the preset for the Marshall Code 100H, then press the Encoder button.
Now you have saved the Marshall Code 100H preset, so that it can be recalled for later use.
Marshall Code 100H Digital Head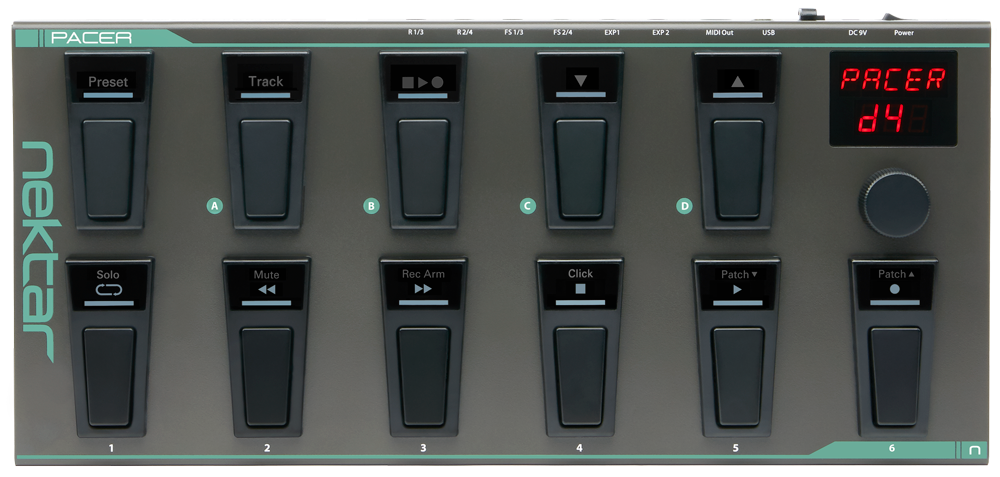 Switch A:

Track Preset

Switch B:

Transport Preset

Switch C:

Previous Preset

Switch D:

Next Preset

Switch 1:

Pre FX On/Off*

Switch 2:

Amp On/Off*

Switch 3:

ModFX On/Off*

Switch 4:

Delay On/Off*

Switch 5:

Reverb On/Off*

Switch 6:

Cabinet On/Off
FS1: Increment Program 0-99
FS2: Decrement Program 99-0
FS3: OFF
FS4: OFF
EXP1: *Stomp Switches [1]-[5] select the following functions for EXP1:

Volume (CC74)
Volume (CC74)
Mod Parameter 4 (CC102)
Delay Parameter 4 (CC107)
Reverb Parameter 4 (CC113)

EXP2: N/A