Kemper Profiler Performance Mode Preset for Pacer
Optional Preset for Performance Mode control of the Kemper Profiler Amp.
In order to load this Preset into Pacer, you need to use a Sysex program such as Sysex Librarian from Snoize for Mac OS X or Bome's SendSX for Windows.)
The sysex data will be loaded as the 'Current' preset. You can then save the settings to any of Pacer's preset slots. If you don't save the preset, the settings will be lost the next time you select a different user preset.
With Pacer in Preset Mode, turn the Data Encoder to select 'SAVE', then press the Encoder Button.
The 5-character display will say 'STORE', press the Encoder button.
Turn the data encoder to select the Preset slot, to which you would like to save this additional preset for Kemper control, then press the Encoder button.
Now you have saved the Kemper Performance Mode preset, so that it can be recalled for later use.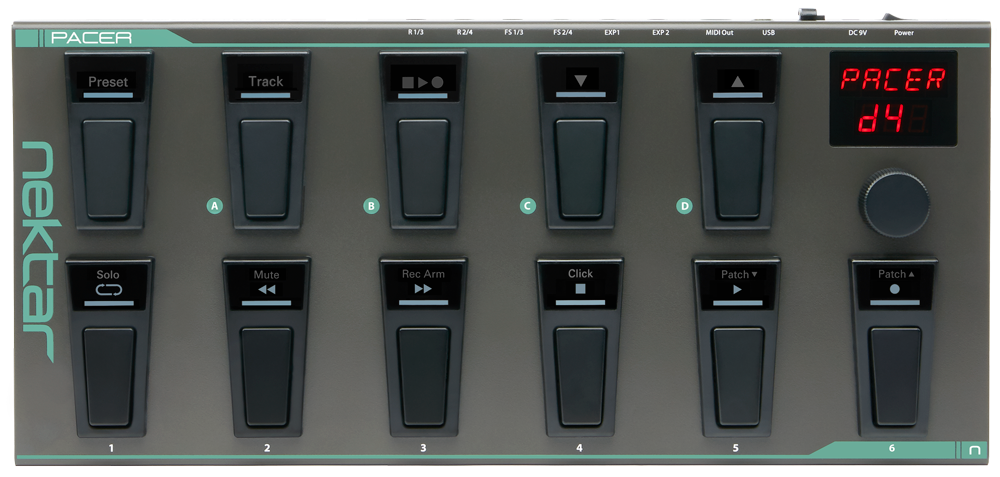 | | |
| --- | --- |
| Switch A | Track Preset |
| Switch B | Transport Preset |
| Switch C | Next Performance |
| Switch D | Previous Performance |
| Switch 1 | Module A |
| Switch 2 | Module B |
| Switch 3 | Module C |
| Switch 4 | Module D |
| Switch 5 | Module X |
| Switch 6 | Tuner On |
FS1: Delay Module On/Off
FS2: Reverb Module On/Off
FS3: Tuner
FS4: Tap Tempo
EXP1: Volume
EXP2: Morph
In this tutorial video you can see how to program Pacer switches and the features of the Performance Mode preset for Kemper: