H&K GrandMeister Preset for Pacer
The Hughes & Kettner GrandMeister is a tube amplifier with full programmability and MIDI remote control. In Factory Preset D1, we have focussed on the basic channel and FX switching needs – with a little extra: EXP 2 changes its function depending on which stomp switch 2-5 you have pressed prior to using it. This allows you to control Gain, Mod Intensity, Delay and Reverb Mix from one pedal. EXP1 pedal one is programmed to control volume ("soft" volume control).
Switching amp presets is also supported: You need to connect 2 external foot switches for this, and can then step up (FS1) or down (FS2) thru the first 10 GrandMeister presets. (If you need more, this can be easily changed to cover all presets by reprogramming the range).
Preset D1 – Grandmeister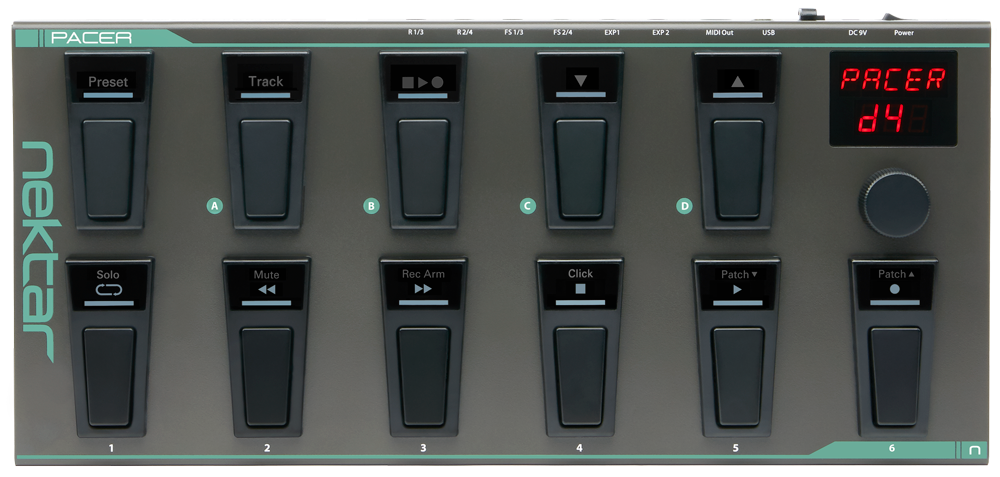 Switch A:

Track Preset

Switch B:

Transport Preset

Switch C:

Previous Preset

Switch D:

Next Preset

Switch 1:

Amp Channel 1-4

Switch 2:

Boost On/Off*

Switch 3:

ModFX On/Off*

Switch 4:

Delay On/Off*

Switch 5:

Reverb On/Off*

Switch 6:

Gate On/Off
FS1: Increment Program 0-9
FS2: Decrement Program 9-0
FS3: OFF
FS4: OFF
EXP1: Volume
EXP2: *Stomp Switches [2]-[5] select the following functions for EXP2:

Boost Level
Mod Amount
Delay Volume
Reverb Volume