AxeFXII Presets for Pacer
Descriptions of Presets B5, B6 and C4, for Fractal Audio AxeFXII.
Note: The presets described on this page are designed for use with the AxeFXII. AxeFXIII does not have a fixed set of MIDI CCs to which it responds. Instead, parameters can be assigned to MIDI CC messages, from the 'MIDI/Remote' page in AxeFXIII's Setup menu.
Preset B5 – AxeFX page 1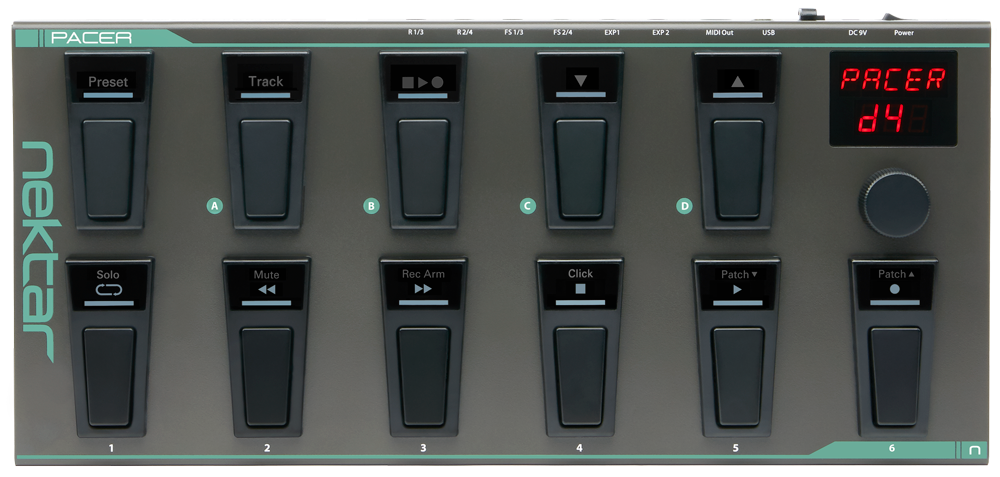 Switch A:

Track Preset

Switch B:

Transport Preset

Switch C:

Previous Preset

Switch D:

Next Preset

Switch 1:

Chorus 1 On/Off

Switch 2:

Comp 1 On/Off

Switch 3:

Delay 1 On/Off

Switch 4:

Drive 1 On/Off

Switch 5:

Phaser 1 On/Off

Switch 6:

Reverb 1 On/Off
FS1: Wah On/Off/Change EXP1 function
FS2: FX Loop On/Off
FS3: Tuner
FS4: Tap Tempo
EXP1: Volume/Wah Position
EXP2: Output Volume
---
Preset B6 – AxeFX page 2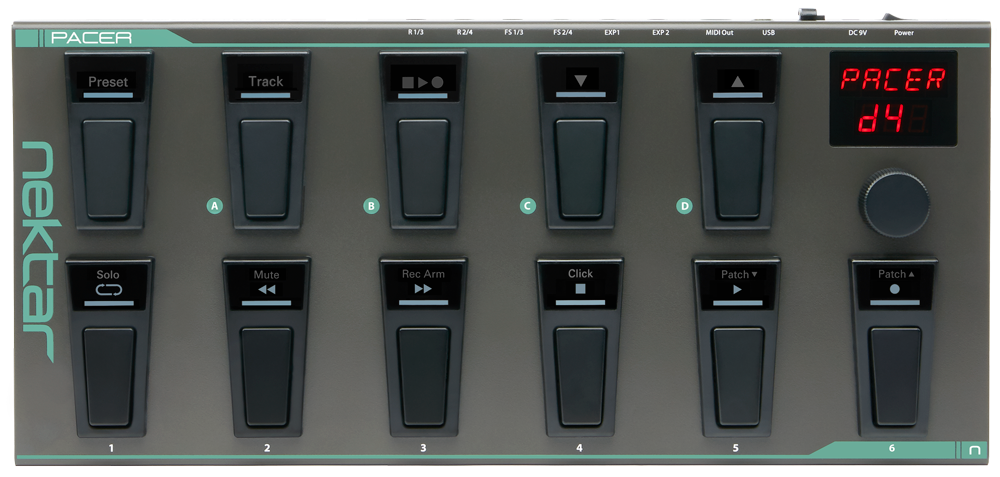 Switch A:

Track Preset

Switch B:

Transport Preset

Switch C:

Previous Preset

Switch D:

Next Preset

Switch 1:

Amp 1 On/Off

Switch 2:

Amp 2 On/Off

Switch 3:

Cab 1 On/Off

Switch 4:

Cab 2 On/Off

Switch 5:

Decrement Scene

Switch 6:

Increment Scene
FS1: Wah On/Off/Change EXP1 function
FS2: FX Loop On/Off
FS3: Tuner
FS4: Tap Tempo
EXP1: Volume/Wah Position
EXP2: Output Volume
---
Preset C4 – AxeFX Looper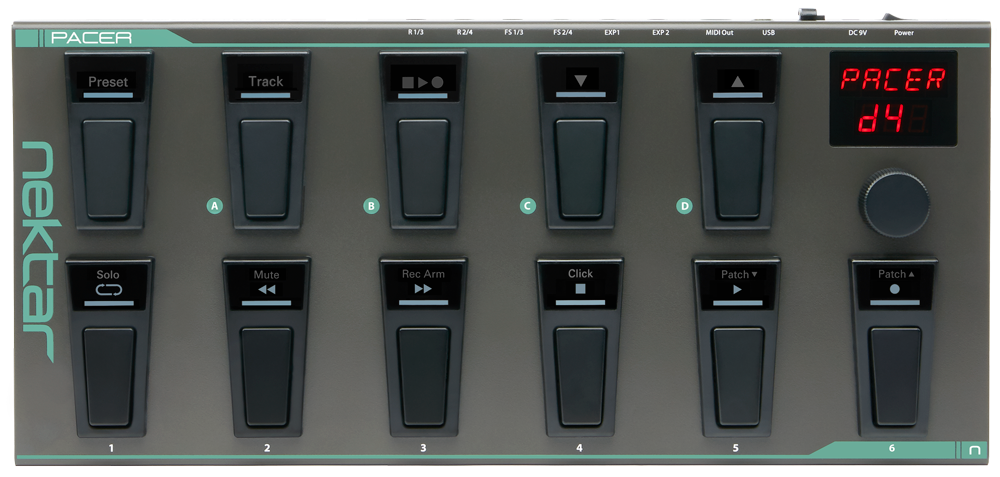 Switch A:

Track Preset

Switch B:

Transport Preset

Switch C:

Previous Preset

Switch D:

Next Preset

Switch 1:

Loop Record

Switch 2:

Loop Play

Switch 3:

Loop Dub

Switch 4:

Loop Reverse

Switch 5:

Loop Bypass

Switch 6:

Loop Undo
FS1: Wah On/Off/Change EXP1 function
FS2: FX Loop On/Off
FS3: Tuner
FS4: Tap Tempo
EXP1: Volume/Wah Position
EXP2: Output Volume