Panorama MainStage Integration
Designed for Performance
Panorama is more than a controller for MainStage. It brings MainStage to life in a way that no other controller has ever done. Select Patch or Sets from Panorama with a choice of 3 navigation systems and tweak performance parameters with complete transparency.
Add Panorama to your MainStage setup and you'll wonder how you ever managed to get by without it.
BROWSING AROUND
Using Panorama's menu system you can quickly browse Sets and Patches within your current MainStage Concert. Turn the Data Control to scroll through the list of patches and select any given patch using the Enter button. Or press the Sets button first and use the same process to scroll through your Sets. Panorama's MainStage browser system provides access to 24 Sets, with up to 24 Presets each. That's a total of 576 Presets without reaching for your mouse!
BUTTONS – WHEN "NOW" IS TOO LATE!
During live performances, time is of the essence. A split second delay in loading a patch can cause a missed cue and maybe a missed gig.
Within any given Set, you can therefore navigate the first 8 patches using Panorama's 8 LED buttons.
Press Toggle/Mute, and the 8 LED buttons now allow you to select the first 8 sets in your Concert. That's 64 patches accessible, using just the LED buttons.
You can also use the Patch-/+ buttons to access the previous or next patch going beyond the 8 available via the LED buttons. Or use the Bank -/+ buttons to navigate more Sets in a similar fashion.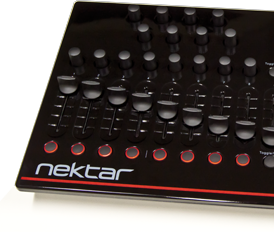 SMART CONTROLS – THE SMART WAY TO WORK
MainStage Smart Controls are mapped with parameter names and values neatly displayed on Panorama's
color screen. There can be up to 12 Smart knobs each assigned to 12 of Panorama's 16 encoders, 4 Smart
Buttons assigned to the display buttons and 9 Smart Drawbars assigned to the 9 faders.

ASSIGNABLE FLEXIBILITY
MainStage is a highly configurable product so if you prefer assigning parameters directly, no problem. Parameters directly assigned to Panorama controls using MainStage "Edit" mode can either augment Smart Controls or replace them entirely. Flipping between the two Panorama screens shows clearly which parameter is assigned to each fader or encoder, so even advanced setups are feasible to control. Panorama gives you the transparency you need to deliver your performance with confidence and accuracy.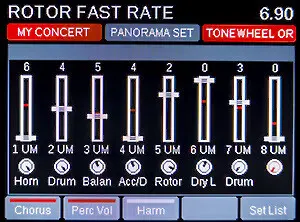 Fader and associated encoder assignments are clearly displayed when you pressToggle/View. Though the 8 LED buttons are reserved for Set and Patch navigation in the main Instrument mode, switching to Mixer mode will give you access to assign these freely also.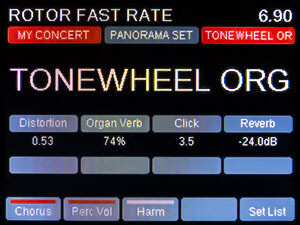 Pressing the Instrument mode button brings back the default home page, showing the assignments for the right 8 encoders. The top info-line shows the most recently controlled parameter regardless of the current display window.
REWIRE – EXPANDING YOUR REACH
With a ReWire slave such as Reason or Reaper, you can expand your sonic arsenal and control reach. Panorama allows you to switch between MainStage and Reason in absolute real-time, offering the same deep integration with Reason or Reaper, you are already familiar with.