The new Nektarine 2.5 software update adds a host of beatmaking features, including drum sample playback, a redesigned user interface and exclusive drum sounds.

Nektarine 2.5 adds the missing element for creating beats with Nektar's AURA Beat Composer: The new integrated DP-1 Drum Player plugin plays any WAV or AIFF audio files with up to 24 bit / 192 kHz sample rate and comes with a library of over 500 drum sounds, right out of the box. 

DP-1 has been especially designed for drum sounds, with realtime access to main sound shaping parameters from AURA: Pitch, Attack, Decay, Decay Slope, Env>Filter, Drive, Cutoff and Resonance are instantly available for tweaking on AURA's 8 pots. Gritty 8-bit sound comes courtesy of the "1982" mode. When active, "1982" changes the playback resolution to 8-bit and emulates the circuitry and classic sound of those first-generation drum machines. A one knob compressor and 2-band equalizer provide additional processing options, along with 1 assignable pressure- and 3 assignable velocity-modulation targets.
DP-1 factory library was created for DP-1 and includes over 500 unique drum instruments and 40 kits: The patches cover a wide range from classic drum machines to electronic sounds and acoustic sets. The acoustic sounds were created using sets and recording techniques of different eras to deliver an authentic, diverse and rich collection. All sounds are available as individual patches or complete Multipatches (kits) in Nektarine.
Nektarine 2.5's user interface has been redesigned from the ground up and introduces many new features and workflow enhancements.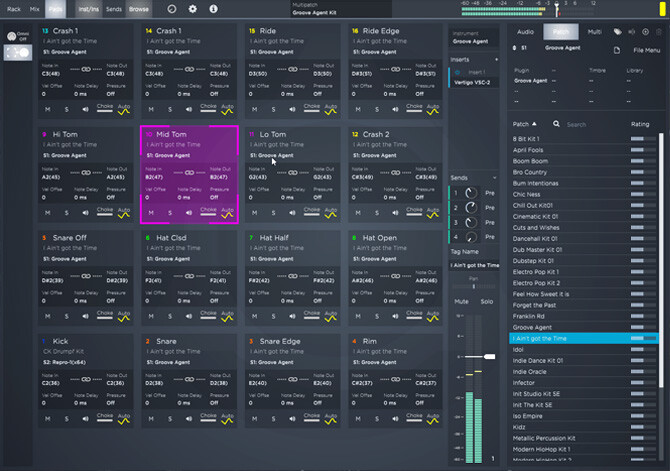 Central for working with AURA is the new Pads View: It combines 16 virtual pads showing all AURA pad settings at a glance, a mixer instrument channel strip complete with plugin slots, sends, pan, volume, mute & solo parameters and a Browser pane for loading of content.
The Browser pane supports fast kit creation via drag-and-drop: Dragging a sample from the Audio tab and dropping it on a pad will automatically load it in the DP-1 Drum Player and create an instrument channel strip. The sample can be instantly played from the AURA pad it was dropped on. Dragging any patch in from the Browser similarly loads that patch and its associated plugin. Pad editing options include copy, paste and swap pads either from AURA or via the Nektarine user interface. 
Nektarine 2.5 can host up to 16 samples or instrument plugins, each with up to 4 insert-FX, and additionally 4 global send-FX plugins. All settings can be saved into one Multipatch and recalled at the press of a button.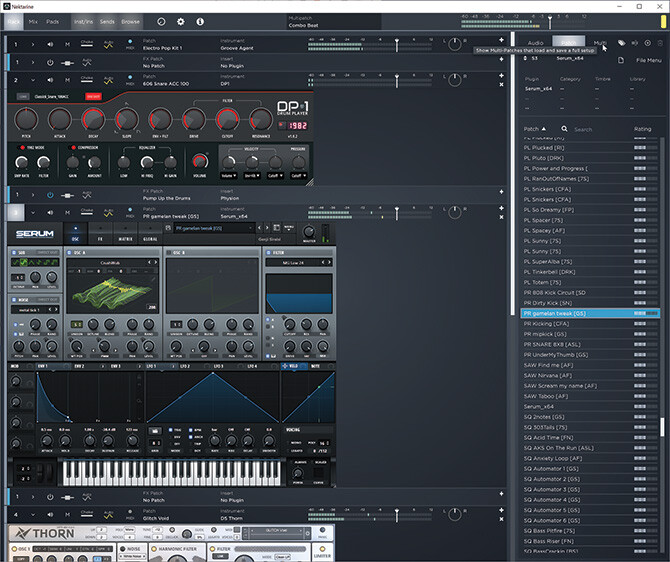 When creating kits from multiple plugins, it can be very useful to see all plugin user interfaces at once: The redesigned Rack View displays all loaded user interfaces in a scrollable list, including a header bar for essential plugin settings and the Browser pane for easy patch selection. Insert FX plugins can also be viewed and edited here.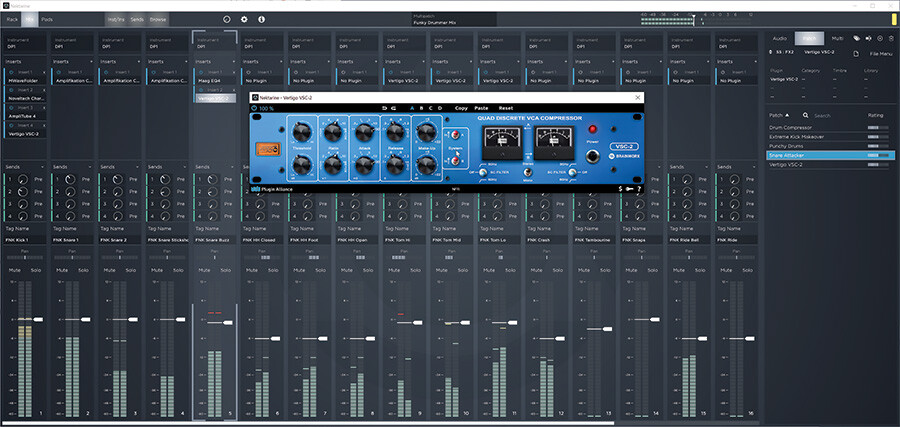 Nektarine's new Mix View presents all loaded plugins and mixer settings in a traditional console-style design. This makes it possible to set levels, pan, sends and manage insert plugins across all 16 instrument channels. Again, the integrated Browser pane displays a selected plugin's patches and supports drag-and-drop. Mixing can also be controlled from the hardware, with the settings available on AURA's mixer screen in banks of 8 channels.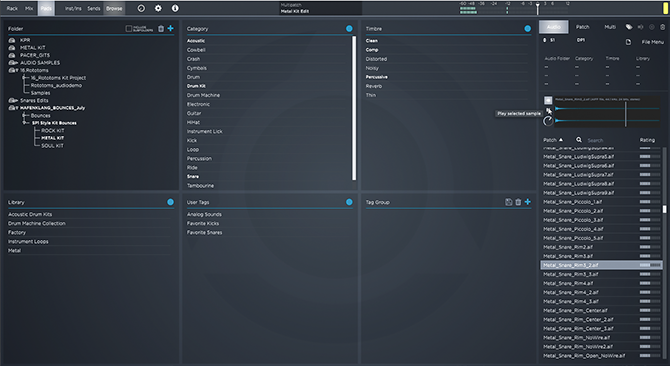 The Browser View is designed to manage thousands of samples and patches with powerful sorting tools, customizable tags and full control from AURA. Sample handling features include audio preview and the mounting of audio library folders, including their sub-folder structure. Browser settings are independent for every instrument and effect plugin slot. They are stored with a Nektarine Multi-Patch or even a DAW project/song, along with all other settings. 
Nektarine can be used stand-alone or as a plugin with any VST, VST3, AU or AAX compatible DAW application in Windows and Apple OSX.
The update is free and available for download directly from the Nektar user account (the applicable software becomes visible automatically after registering AURA and OS version).