Free VST Plugins and VST Instruments can turn music production and beat making in your DAW into even more fun. 
But the Freeware scene is constantly changing, and the choice of free plugins out there is vast: There are new plugins on an almost daily basis. So on this page we'd like to share plugins we feel are worth having a look at.
And make no mistake: Many freeware instruments are surprisingly good,  delivering great sounding professional results. They can be a great source for new inspiration!
In the following we'd like to introduce some of our current picks, including download links where to get them. (We'll keep updating this page, so it makes sense to check back once in a while).
CONTENTS (click on title to scroll down):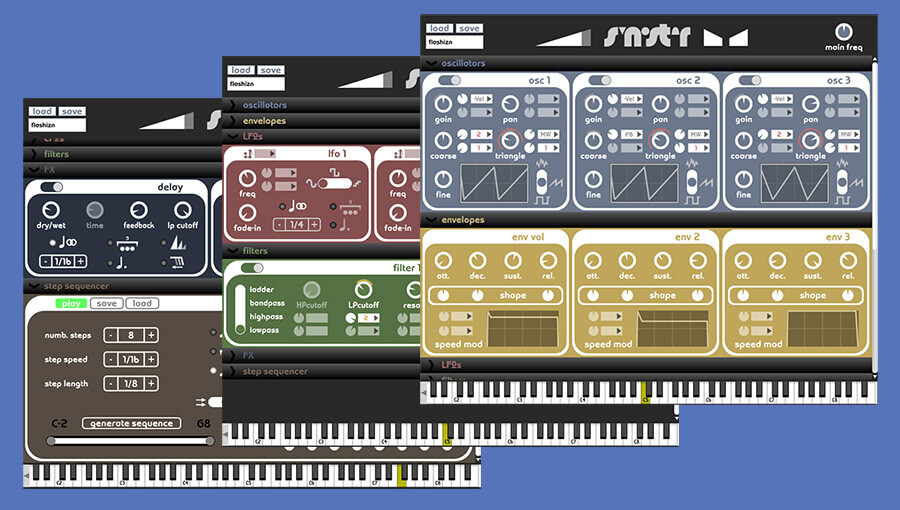 Synister
Manufacturer: Quality & Usability Lab, TU Berlin
PlugIn formats: VST – AU
Available for: WIN
More Info & Download Link:
http://the-synister.github.io/
Synth sounds unfolding fast: Synister is an easy to use virtual analog synth for classic sounds – with a twist.

Synister is a fun little open-source synth for VST and AU (Windows only), that can inspire to create new sounds due its user interface design. If you are interested in creating new sounds, fast, read on: This synth has 3 Oscillators, of which each can be set to Saw (includes Triangle option), Square (includes Pulsewidth) and Noise. Next come 3 envelopes, 3 LFOs, 2 filters (with 4 selectable types), FX (Delay, Chorus/Flanger, LoFi and Clipper) and an 8-step sequencer. So the parameters are pretty much self-explanatory for anyone who's ever seen a synth.
Only very few patches (of the experimental variety) are included with the download – so you'll need to get right at and create your own. Fortunately, this is very easy – the user interface is divided into expandable sections (OSC, Filters, etc.), which allows fast navigation once you get used to this: Simply click on the little triangle to unfold the section you want to edit. As the UI isn't sizable (at least in this tested version), you can't see all parameters at once.
Modulation can easily be assigned using dropdown menus next to parameters such as Pitch, Cutoff, etc. So creating a classic sirring PWM-sound, or fat detuned saws is done in no time. The sonic character reminds of typical classic subtractive synths, but the LoFi bit reduction and Clipper FX also allow you to take sounds into the present tense easily. A special feature is the little 8-step sequencer, that offers a generator for instant lines and is great fun as it is so easy to use!
Once you control the parameters from a Nektar MIDI controller with DAW integration or Nektarine, creating sounds becomes even more intuitive: with those ADSR envelopes and filter settings on the knobs of Panorama T-series or Impact LX Mini, creating sounds feels like working with a hardware synth. It is just a shame, that you can't assign the modulation intensity pots for MIDI control (maybe something for an update? Anyone listening? ;)).
Synister has been around for a while, originally it was created for a project by students of the Technical University in Berlin on github. But as it is open source, we can hope it will keep getting updated. Synister is a really fun, easy-to-use and good sounding synth worth checking out!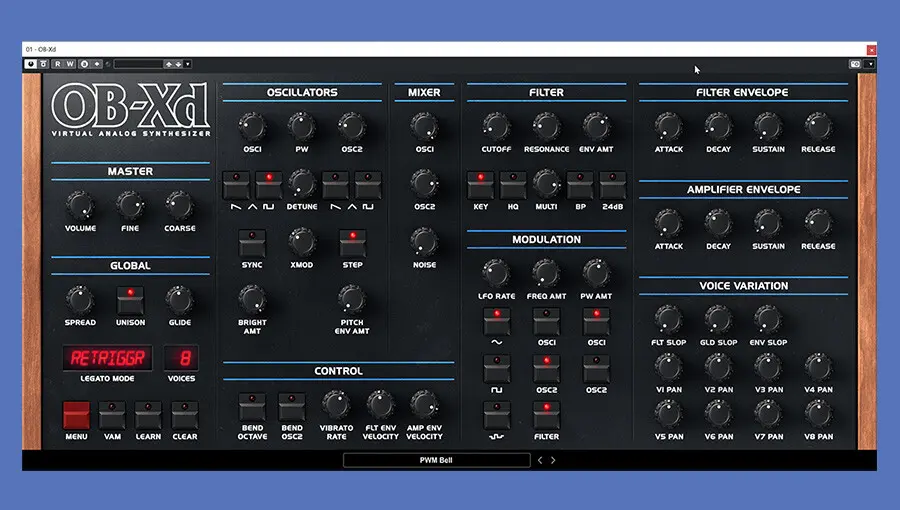 Classic synth sounds galore: OB-Xd brings back the legendary OB-Xa as a freeware plugin.
Some classic synthesizers have earned an almost mythical status – like Oberheim's legendary OB-Xa analog synth. And not just because it's the synth used for Van Halen's inescapable "Jump" hook or a lot of Prince's sounds from that era (1999, Purple Rain). Plugin developer discoDSP have turned this synth into a free plugin for non-commercial use now (if you plan on using it commercially, you'll have to pay a pretty affordable license fee).
And this synth is fun: Its user interface is immediate and quite easy to dive into. Patches to get you started are accessed from the "Menu" button, the included library covers classic sounds as well as more contemporary ones. "Menu" also lets you open the "Preset Bar", so you can see the patch names. 
In terms of features, OB-Xd has two oscillators with 8 voice polyphony, each with saw, triangle and rectangle waveforms. The PWM for the rectangle waveform sounds awesome. Once you start detuning things, the sound really comes alive. A simple mixer lets you mix the oscillators with the noise generator, sending the sound on into the multimode filter with resonance (and 12 and 24 dB modes). 2 ADSR envelopes and a simple modulation matrix complete the picture. Voice Variation adds a fun option to have these parameters react in a slightly unpredictable "analog manner" for Filter, Glide and Envelope as well a pan per voice. This can also help achieve more lively sounding results.
OB-Xd recreates the classic sound and feel of the vintage original, but adds a couple of extras not found on the hardware unit: Like the mixer for the oscillator section. Or the multimode filter, the original only had a 12dB low-pass filter. One of the secrets to the OB-Xa's sound are tuning imperfections, so discoDSP added micro random detuning to recreate this. We didn't A/B the plugin with the real thing, but when playing along to classic songs with similar patches selected it definitely felt very close – you might even jump (pun intended). And once you map the parameters to your MIDI controller, OB-Xd feels quite close to working with a hardware synth (immediate access to multiple parameters at once makes all the difference when tweaking sounds!).
So if you are looking for classic synth-sounds with a strong Oberheim flavor, this plugin is definitely recommended. And what's not to like about another free tool for the arsenal?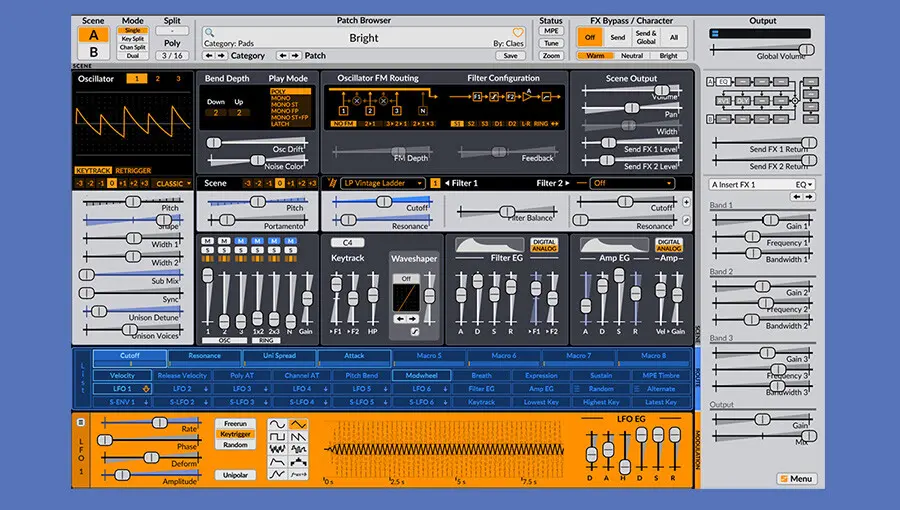 Deep, deeper – Surge: This free powerful hybrid synth with multiple synthesis techniques including virtual analog, FM, wavetable and physical modeling.
Is this maybe one of the best free VST plugins ever? Surge XT scored the Reader's choice award 2020 on KVR for "favorite free virtual instrument". And with good reason – this freeware synth is deep and features not one, but multiple synthesis techniques. Originally created by Claes Johanson, it was released into Open Source in 2018. Since then, a group of volunteers has been maintaining this synth.
 On to the features: Surge has 3 oscillators that each can use one of 8 different algorithms, including classic waves, different types of wavetable synthesis, physical modeling and FM. Add to that 2 filter units (with multiple filter algorithms), wave shaping, up to 12 LFOs and an FX section with up to 8 effects units (with a long list of FX algorithms).
Surge XT's structure is really flexible, you can choose from different filter configurations, fx routings, … and if that's not enough you can combine two "Scenes" – which means that you can split or layer two Surge instances. Definitely a synth for getting lost in!
What does it sound like? As Surge offers so many different options, this plugin is a true chameleon: It can sound anything from lush to harsh or "analog" to "digital". Fortunately, Surge XT includes a large user-library (almost 3000 patches) to help get a feel for its capabilities. Browsing through those patches, there's stuff for EDM or drum & bass just as well as typical classic "analog" or "digital" sounds.
As to creating sounds yourself, Surge can feel a bit overwhelming at first – but even in the initial exploration phase it is possible to create sounds simply by trying out stuff. Before long, I had created a typical DX7-style FM sound from scratch. Then, starting from the "Bright" factory patch and playing with filter type, envelope, unison voices and detune, a soft and lush analog pad started to take shape. The extensive online manual also helps on one's path of starting-to-scratch-the-surface. Parameter remote control works via MIDI-learn.
Surge XT is a powerful synth  – the only caveat being that the deep UI might not be instantly intuitive. But with the excellent documentation and a bit of an adventurer's spirit you can definitely create cool sounds. Impressive!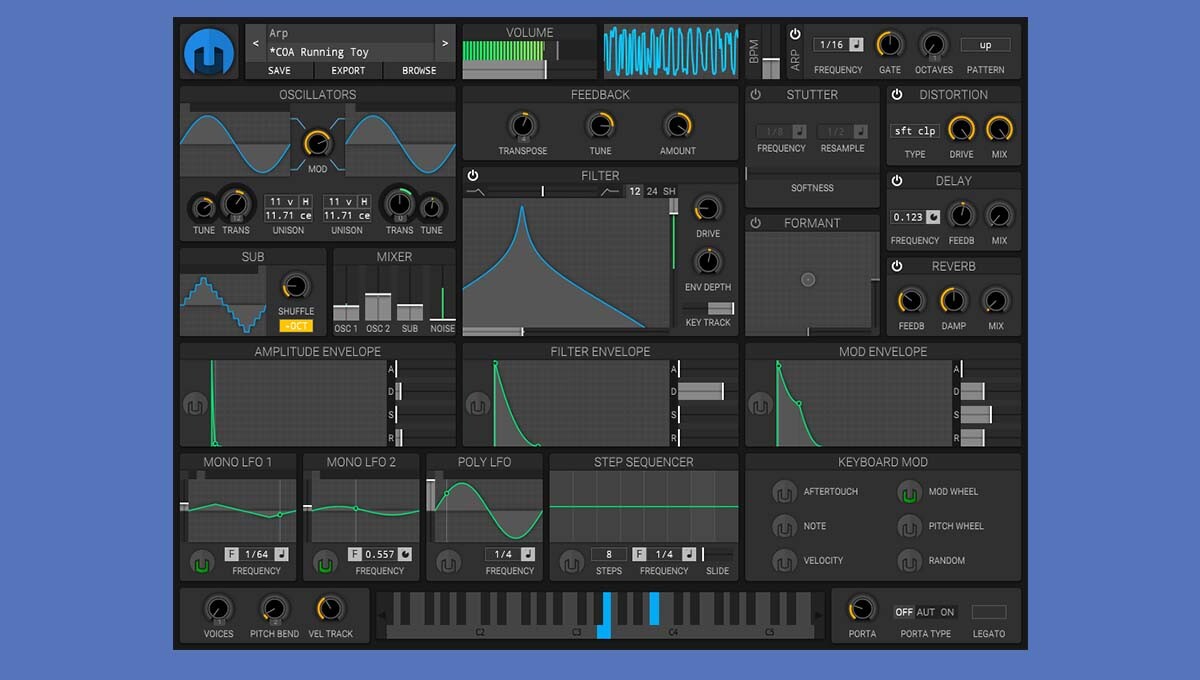 HELM
Manufacturer: Matthew Tytel
PlugIn formats: VST – VST3 – AU, LV2
Available for: Mac OS X – WIN – LINUX
More Info & Download Link:
https://tytel.org/helm/
Helm is a free virtual analog synthesizer that provides subtractive synthesis with a twist, delivering typical virtual analog sounds as well as more "digital" trap or chip-tunes sounds and a fun UI.
At first glance, Helm is a typical 2 oscillator synth with sub oscillator and noise generator – the identical oscillators offer 11 waveforms (including sine, triangle saw and square wave options).
Where it instantly gets interesting, is the unison feature with "Harmonize" function: When active, the copied oscillator instances create harmonics. So you could eg. choose a sine wave and add up to 15 harmonics simply by adding more unison instances in the "Harmonize" mode for rich organ sounds.You can also detune the instances and crossmodulate the 2 oscillators.
An oscillator feedback stage with a delay line/comb filter in each voice adds even more shaping possibilities. The filter section has 12/24 dB low / band / hi pass and shelving filter types with resonance and drive. Add to that 3 envelopes, 3 LFOs, a step sequencer, an arpeggiator – and built-in FX like Stutter, Formant, Distortion, Delay and Reverb for even more options.
Helm has really powerful modulation features: The modulators can be assigned to most destinations, including FX, simply by clicking on the little mod icon and then clicking on the desired target parameters and dragging in there to set the range. Nice!
Helm is capable of warm virtual analog sounds as well as contemporary digital "harsher" sounds for d&b, trap or edm. Especially with the unison feature coupled with detune you can create rich sounds from one oscillator. The only caveat is, that you can't pan the oscillators for more width: the sound is mono up until the reverb. A selection of good factory sounds shows off some of Helm's strengths and gets you started right away. A synth that is really fun to discover and play around with!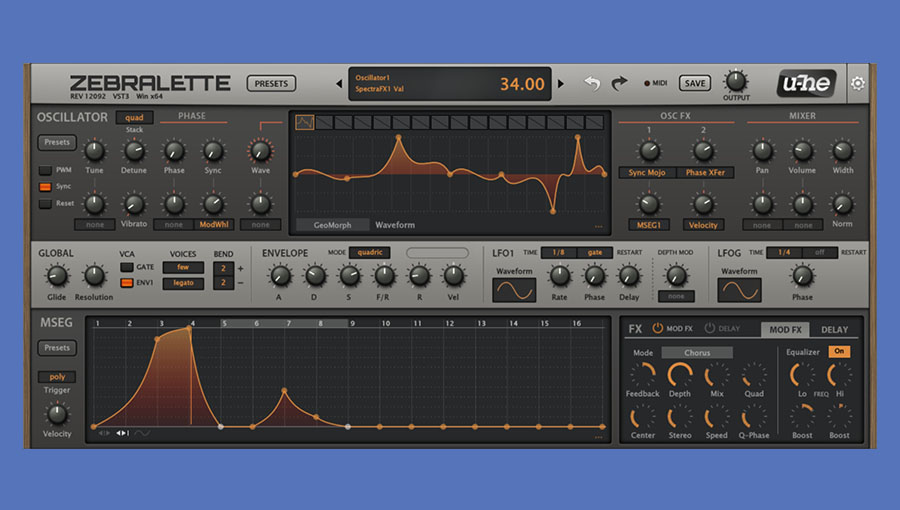 Zebralette is a free virtual synthesizer plugin by renowned German synth developers U-he.
U-he have not only created really cool commercial plugin instruments such as DIVA, Bazille or Repro, they have also created several great free ones (Podolsky, Tyrell or Beatzille to name but a few).
Zebralette is one of those and based on their Zebra2 Spectral Oscillator Synth: Its oscillator design goes beyond traditional subtractive synthesis by offering editable waveforms and allowing you to draw your own shapes. These shapes can then be morphed or crossfaded between, eg. using the LFO for very lively and dynamic sounds.
Two so-called "OSC FX" allow you to modulate the waveforms with spectral effects, including Filter, Formant, CombFilter, something called "DX" or "Sync Mojo" – 26 options altogether. The results can be anything from just adding subtle harmonics to completely warping the sound. The OSC FX are modulatable from a choice of 12 modulation sources, including Velocity, Envelope or LFO. And Zebralette is really immediate and easy to use thanks to its one window approach:
With just one oscillator, this synth is capable of creating unusual and dynamic sounding results including typical 80s "bell-y" wavetable sounds reminiscent of the famed PPG Wave synthesizers, soft lush pads or earth-shattering aggressive basses.
As you won't get lost in a myriad of windows and parameters, it is fun to edit and play around. (And if you control it from a Nektar MIDI controller with DAW integration or Nektarine, it becomes even more intuitive. You can assign and control multiple parameters from the hardware at once for a true hardware synth experience.) Zebralette comes strongly recommended – definitely worth checking out!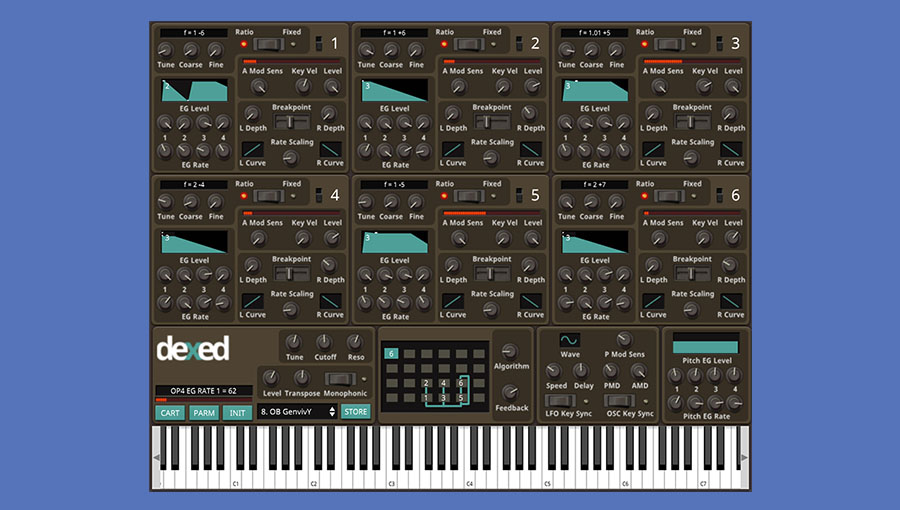 DEXED
Manufacturer: asb2m10 / Github
PlugIn formats: VST – AU – LV2
Available for: Mac OS X – WIN – LINUX
More Info & Download Link: https://asb2m10.github.io/dexed/
Dexed brings you not just the sound of the legendary DX7 synthesizer into your VST or AU DAW, you can even use it as a DX7 editor and midi cartridge librarian for the hardware.
The developers of this open source project on GitHub say that you shouldn't expect a perfect clone, but it is pretty convincing! They even went as far as providing 3 different "engine types", including a Mark 1 (DX7 style), Modern 24Bit and experimental OPL Series 8Bit engine.
If you are not familiar with FM synthesis, you'll of course have to get into the way sounds are generated and edited first. Unlike Zebralette, this synth and classic FM synthesis isn't known for being overtly intuitive. But even if you'd like to just stick on the surface this synth is great fun, especially considering it includes 3000 patches or so. And you'll find a lot of those classic 80s FM sounds in the library.
At the time of writing, Dexed was still version 0.9.6 – but worked quite well.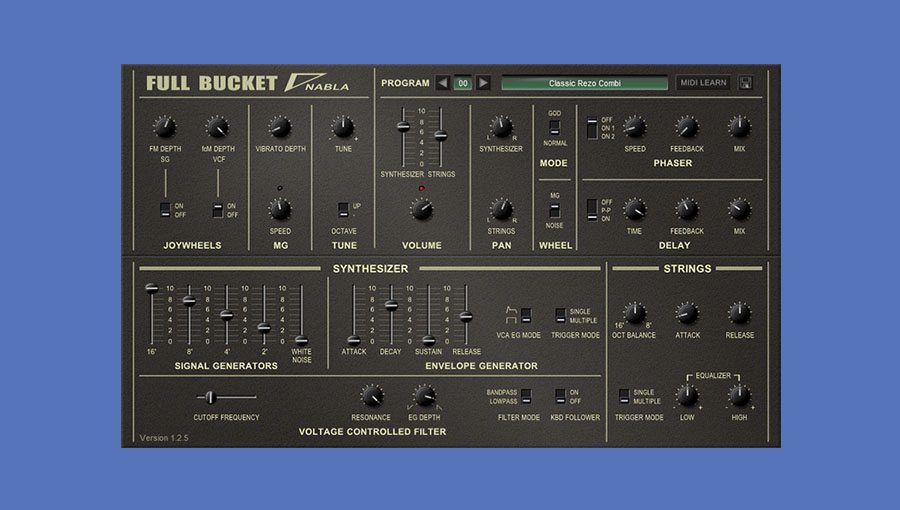 If you like the psychedelic strings of late 70s electronic music (think early Jean-Michel Jarre and Vangelis), or the sonics of contemporary bands such as Ladytron, check out Nabla, the free virtual string synthesizer from Full Bucket Music.
This plugin instrument aims to recreate the sound and features of the classic Korg Delta String Synthesizer, with a couple welcome additions like Phaser and Delay FX. Like its hardware predecessor, Nabla integrates two independent sections that can be mixed together: A simple synth offering 4 signal generators producing rectangle waveforms at 18", 8", 4" and 2", a multimode filter with resonance, envelope and a bit of modulation as well as a string-section with 16' and 8' signal generator, simplified AR envelope, plus Equalizer.
A special limitation of the hardware has also been re-created: the plugin is "paraphonic", so only has a monophonic filter (actually, the hardware also had a monophonic envelope – but this doesn't seem to be the case here). But if you'd prefer Nabla to be fully polyphonic, simply activate the so-called "God-mode" switch.
The plugin can sound pretty authentic, I compared it to a a real Korg Delta String, and is a one-stop solution if you'd like to recreate these recognizable classic string-pad sounds. But it can do more: In spite of the simple UI, Nabla is surprisingly flexible. All plugin parameters are MIDI-assignable, and with remote control from a Nektar MIDI controller you can easily assign key parameters and even switch the patches from the hardware (another welcome addition over the real Delta String – which had no presets).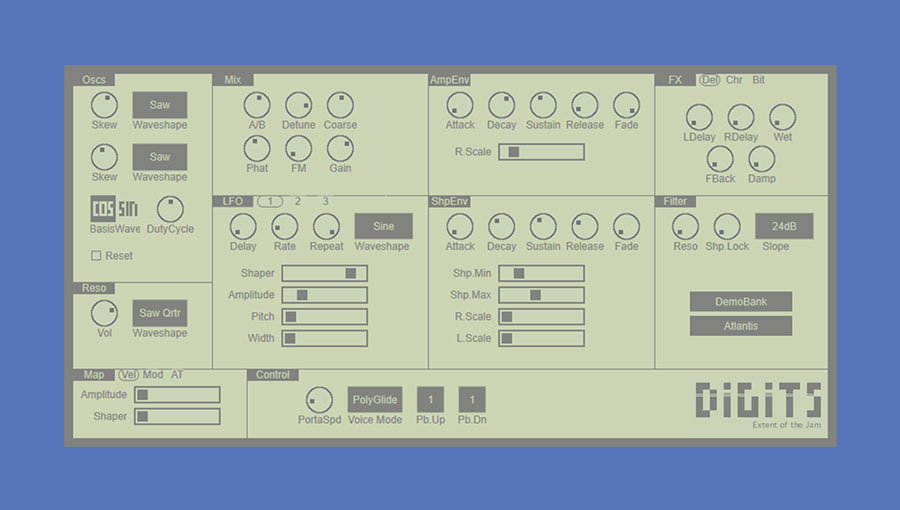 The free Digits virtual instrument revisits classic phase distortion synthesis!
In the 80s, there wasn't just the DX7 and FM synthesis. At the time, Casio also launched a new type of digital synthesis with the CZ Phase Distortion Synthesizers. Developer Louis Gorenfeld took that as a basis and added features such as easier to use ADSR envelopes and a traditional 1, 2, 3 or 4 pole Lowpass Filter with resonance as well as an analog chorus emulation.
The synth can deliver the squelchy sounds Phase Distortion became known for as well as softer and warm pads or dirty basses. It takes a while to get used to the slightly different parametrization, but the factory patches give you a good idea of what the synth is capable of. As the user interface is not too overwhelming, a little bit of "dare-devil-experimentation" can result in really interesting sounds – and when remote controlling Digits from a Nektar MIDI controller tweaking is even more fun, as you can control multiple parameters at once. This can deliver unexpected results you wouldn't get to, if just mousing around.