Scanning Plugins
Before you can load the plugins installed on your system, Nektarine needs to first scan them so it knows what plugins are available and where they are installed.
1. Click on the [Settings] tab to scan and manage your plugins in Nektarine.
2. Click on [Plugin Options] to open the popup menu where you can choose between the following options:
'Clear list' – clears the plugin list of any scanned plugins.
'Remove selected plugin from list' – only active when one or more scanned plugins are selected.
'Remove any plugins whose files no longer exist'.
'Scan for new or updated <VST/VST3/AU> plugins'.
3. Select one of the scan options.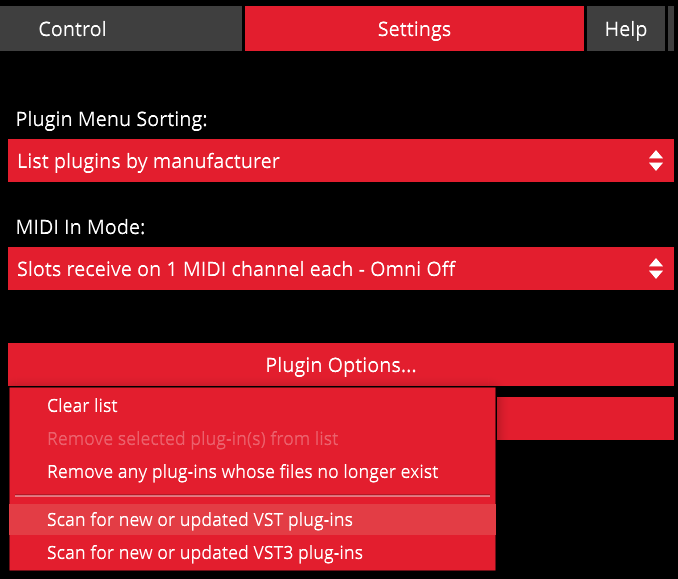 4. A popup window appears, listing the folders that are currently set up to be scanned.
If you need to add a plugin folder path, click on the + sign bottom left of the 'Select Folders to Scan' window and navigate to the folder that should be included in the scan. Click 'OK when done.
5. Click the 'Scan' button to activate the scanning process. The plugin list will be populated as plugins are scanned.
It's also possible to scan by drag and dropping individual plugins on the plugin list.
Removing Scanned Plugins
Plugins can be removed from the scanned list at any time.
1. Click on a plugin in the list, to select it.
2. Click on 'Plugin Options' and select ' Remove selected Plugin from list'. If your DAW allows Nektarine control input from your computer keyboard, you can also press the [Delete] or [Backspace] buttons to remove the plugin.
Plugin Slot List Sorting
When you select a plugin in a plugin slot, the sort order is important.
Click on  'Plugin Menu Sorting' and choose the setting you prefer. Nektarine sorts plugins by manufacturer as default.
Plugins Deactivated During Scanning
If some of your plugins are not available in Nektarine following completion of scanning, check if they appear at the bottom of the plugin list in red.
If so, check with the manufacturer if there is a newer version then install and scan again. If the problem persists, contact Nektar support so we can look in to it.